News
Putting community wealth building and racial justice on the agenda at the Social Enterprise World Forum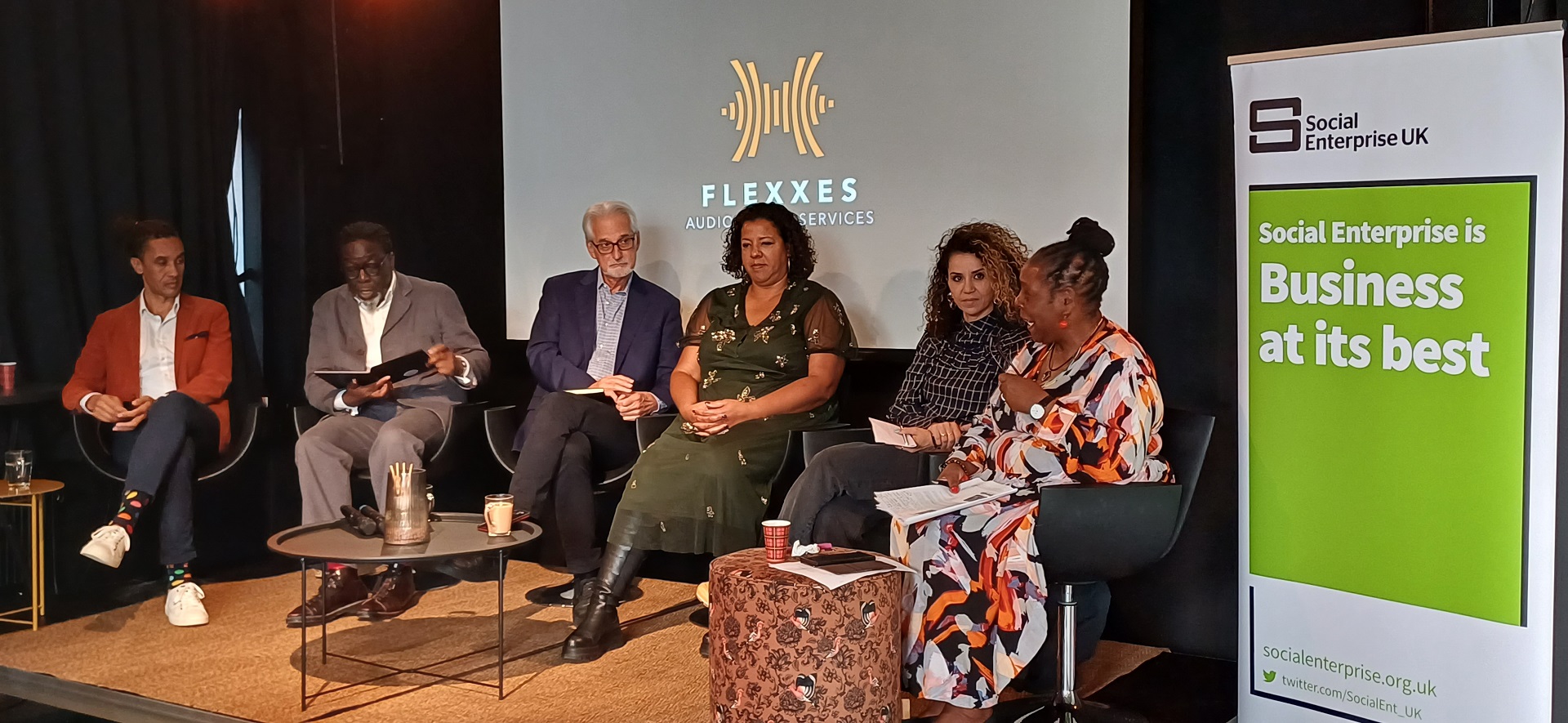 At the Social Enterprise World Forum in Amsterdam this month, we hosted a fringe event in partnership with our member The Ubele Initiative to explore how community wealth building can be used to empower racially minoritised communities.
Community wealth building is an economic development model based on communities having control and ownership of assets. It is designed to challenge traditional neoliberal approaches to areas such as housing and work, which tend to exacerbate rather than reduce inequalities. The team at Ubele are pioneers in the community wealth building space, working to empower Black and minoritised communities in the UK.
55% of Black-owned community assets have insecure futures due to issues with funding, leases or succession planning – so Ubele works to ensure racially minoritised communities are empowered to manage their buildings and spaces.
For example, the Gida Housing Co-operative aims to address poor housing outcomes and their impact on health. Ubele described it as "an affordable housing provider that enables people to have ownership and a say in the management of their own homes", using a model where tenants control the co-operative that owns the homes. Gida is looking to take on 56 homes and has around 100 prospective tenants. Given the links between racial inequality and housing inequality, and the increasing unaffordability of cities like London, initiatives like this are vital.
As part of the National Strategic Alliance, Ubele looks at community wealth building in specific communities to better design interventions and support. Ubele is also involved in the shaping and delivery of the Enterprise Development Programme, supporting Black and minority-led organisations to grow their financial resilience and impact via grants and learning.
Event attendees also discussed community wealth building in a global context, analysing some of the key barriers to racial equality in the social enterprise and social impact space. Our panel of inspiring speakers included Democracy Collaborative leader Ted Howard, social entrepreneur and politician Joanne Anderson, economist Najah Aouaki and our chair Lord Victor Adebowale.
Ted gave us a whistlestop tour of the history of community wealth building, including his own work on the Cleveland model, creating worker owned co-operatives in a predominantly Black city where many people live below the poverty line. He also spoke about the growing impact of co-operatives in India and the pioneering work of Mondragon in the Basque Country, which has helped the region have the greatest wealth equality in the European Union.
Ted's work now focuses on New West Amsterdam, which is home to 20% of the city's population and most of its migrant communities but only receives around 5% of the city's procurement spend.
Racial inequality in the Netherlands was also the focus of Nadja Aouaki's contribution to the discussion. She described rising inequality in Amsterdam since 2018, made more evident by Covid, and how it is organised racially. She stressed the importance of "alternative economic paradigms based around municipalism" and acknowledged that "in the Netherlands we still find it hard to talk about race".
Former mayor of Liverpool Joanne Anderson spoke about how the city's growth from fishing port to industrial powerhouse was "built on the back of the slave trade" and how racial inequality still permeates the city. Joanne helped set up a pioneering social investment fund through social enterprise community Kindred; 25% of the £6.5 million pot went to Black-owned organisations and the goal is to reach £50 million, always having 25% earmarked to reduce racial inequality.
Access to finance was also core to Lord Victor's contribution, as The Adebowale Commission into social investment found that "Black social entrepreneurs get less funding, and funders are not led by Black people".
He mentioned that things are changing and we have moved into the "shame stage" where organisations are realising there is a problem and starting to act – but he made clear that what now needs to happen is a move "from the shame stage to the power stage" where Black-led social enterprises have truly equal investment opportunities.
From Cleveland to Liverpool and Amsterdam to Spain, we heard how community wealth building empowers communities and offers an alternative to the neoliberal approach to economic development, giving communities real ownership over their futures. This fringe event was an energising start to a busy conference schedule, so we hope many others will be inspired by lessons learned and connections made.