News
Celebrating social enterprise success In Northern Ireland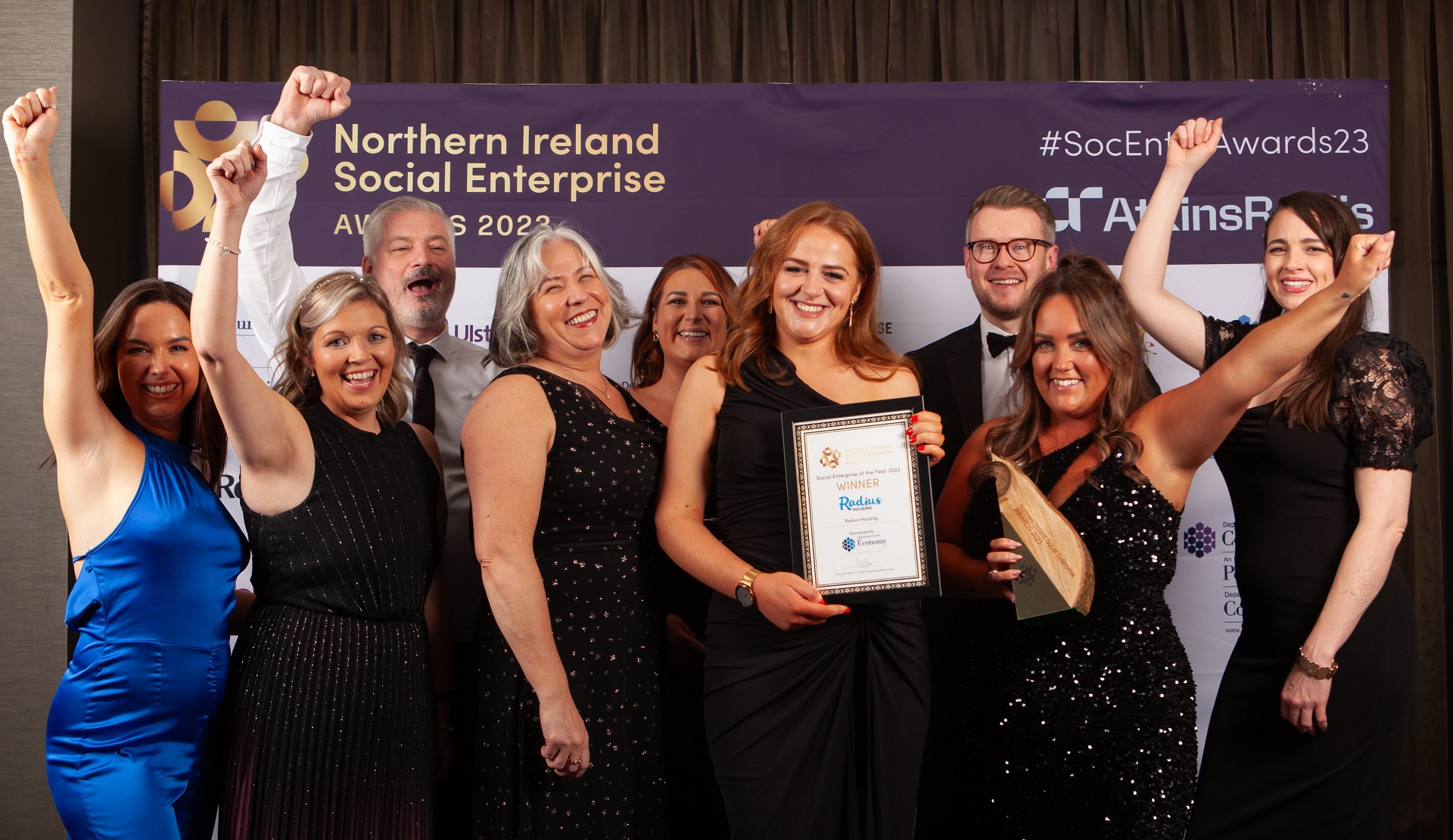 Northern Ireland's most impactful ​‌‌‌​‌‌‍‌​‌social enterprises were celebrated at the 2023 NI Social Enterprise Awards, in partnership with AtkinsRéalis held on Friday 27th October.
Winners were announced at the prestigious black tie event in Belfast's Crowne Plaza, hosted by local radio presenter and Social Enterprise sector ambassador Cate Conway. It was an evening of celebration for the nearly 600 individuals who attended from the private, public, and social enterprise sector.
The annual awards recognise talented individuals, teams and organisations for their unique contribution and significant impact to society in Northern Ireland. Over the last 11 years, the awards have promoted the incredible work and achievements of social enterprise businesses, highlighting the active role they play in changing communities, building more inclusive places to live, and making a positive impact on our environment, all while making a profit through their respective business.
Radius Housing picked up the top accolade of the night, winning 'Social Enterprise of the Year' for their exceptional social impact and ongoing work with local schools and communities.
Reflecting on the awards ceremony, Colin Jess, Chief Executive of Social Enterprise Northern Ireland, said:
"This year we received the highest level of entries, and our judges were impressed by the quality of the entries. Applications reflected the incredible resilience, entrepreneurial spirit, passion, and dedication of those working in the sector. It was clear to see the unwavering commitment to impact the lives of those hardest to reach, change communities and create social change.
"These awards not only celebrate talent and innovation but also brings together everyone in one room who work at the heart of the social enterprise movement. It is truly inspirational to witness the impact that these Social Enterprise winners and finalists have made to society and the local Northern Ireland economy.
"Well done to all our winners, keep up the great work. I would also like to thank our sponsors for their support in making the awards possible."
Winners of 2023 Social Enterprise NI Awards:
Best New Start Up
Community Wealth Building Award
Joint Winner: Derry Credit Union
Joint Winner: The Workspace Group
Rural Social Enterprise Award
Credit Union Award – 10-25m Turnover
Winner: Ardboe Credit Union
Credit Union Award – Over 25m Turnover
Winner: Derry Credit Union
Co-Operative Award
Winner: Belfast Cleaning Cooperative
Best Use of Social Media
Winner: High Rise
Highly Commended: Harp and Crown Credit Union Limited
Consumer Facing Award (via public vote)
· Winner: Naturally North Coast & Glens
Social Impact Award
Winner: Via Wings
Highly Commended: Habitat for Humanity Northern Ireland
Young Person of the Year
Winner: Claire Mooney, Moneydarragh Community Hub Ltd
Highly Commended: Robert Campbell, Aspire Media CIC
Emerging Leader of the Year
Winner: Gareth Little, Harry's Place CIC
Highly Commended: Rachel McIlgorm, Storybox NI CIC
Leader of the Year
Winner: Janet Schofield, Compass Advocacy Network (CAN)
Council of the Year
Winner: Belfast City Council
Best Cross Sector Collaboration of the Year
Winner: CTS Projects Ltd, Womenstec & Bolster Community
Outstanding Voluntary Team
Winner: Carrick Greengrocers
Outstanding Staff Team
Winner: Bolster Community
Highly Commended: Compass Advocacy Network (CAN) & Oasis Caring in Action
Outstanding Joint Volunteer & Staff Team
Winner: Harry's Place CIC
Highly Commended: Centred Soul CIC
Social Enterprise of the Year
Individual category sponsors included AtkinsRéalis, Ulster Bank, Rapid Agency, NI Housing Executive, Department for the Economy, H&J Martin, Evolv IT, Social Enterprise Academy, VIable Corporate Services, Lockton, AtkinsRéalis, Hays, NI Support Service, Department for Communities, Firmus Energy, Irish League of Credit Unions, Lockton, Edwards & Co, ProAptivity, Community Finance Ireland and the Construction Employers Federation.
On winning their awards Radius Housing, Via Wings and Janet Schofield have also been automatically shortlisted for their respective categories at the UK Social Enterprise Awards taking place in London on the evening of 30 November.