Member updates
Social care business celebrates 10 years of success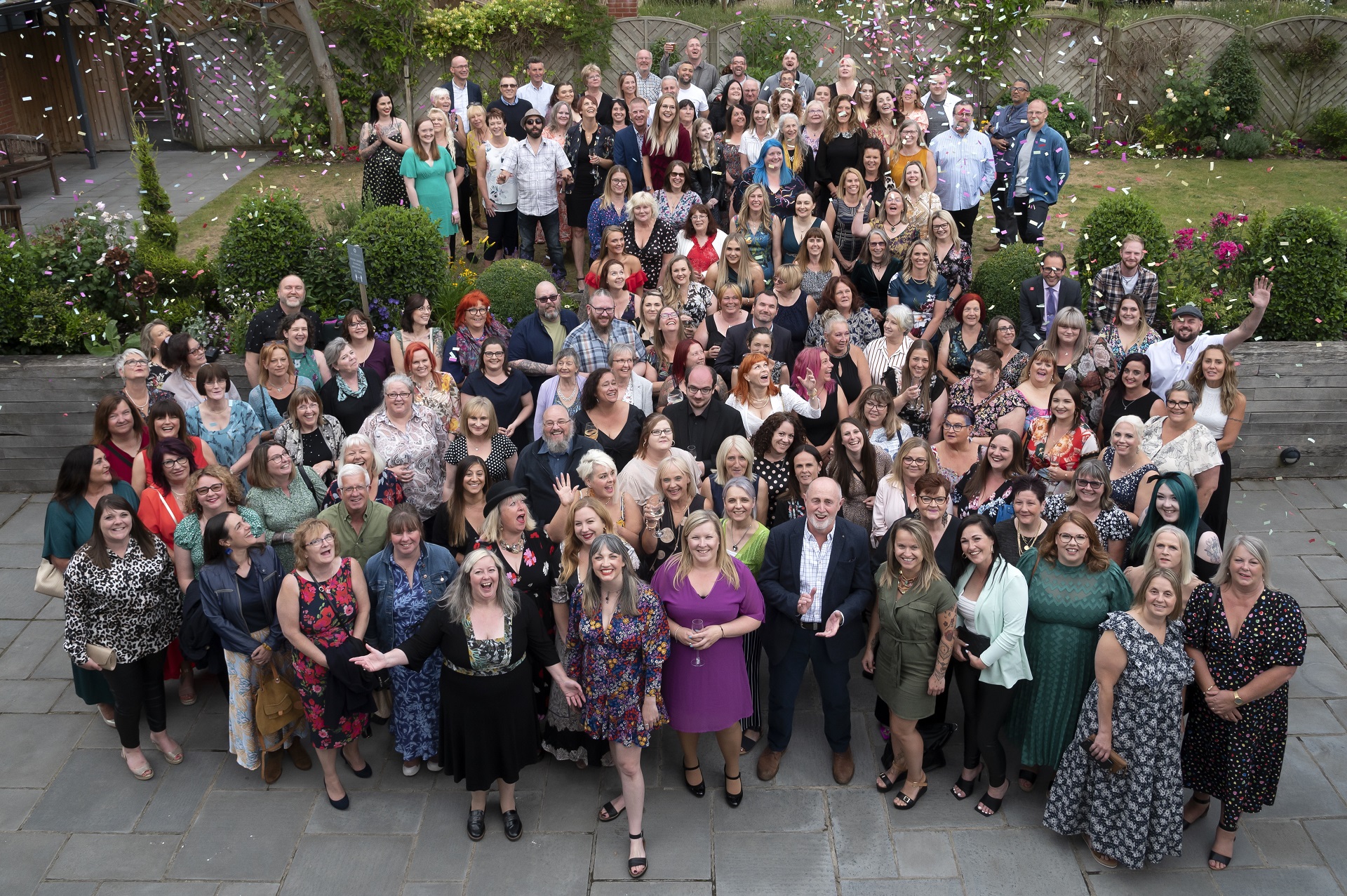 July the 1st 2022 saw Leading Lives mark its 10-year anniversary as an employee-owned social enterprise, with a combined birthday celebration and awards event in Bury St Edmunds. It also acknowledged the contribution of Tony Carr, who retires as Managing Director after 41 years in the Suffolk care sector.
Leading Lives has grown significantly since it was established as an employee-owned social enterprise in 2012 and is now an award-winning social enterprise that delivers innovative high-quality care services to over a thousand people, with an annual turnover that has increased to £10.7m.
Social care provision includes 24 hr supported housing, overnight stays to give family carers a break, bespoke 1-1 care in the community and in people's homes across Suffolk. Their community hubs provide a range of skills development and leisure activities as part of a county wide daytime, evening, and weekend offer. They have an expanding offer bespoke to young people with learning disabilities and autistic people 13-25yrs that is grant funded by Activities Unlimited. They have embraced new ways of working and used technology to support people during the pandemic through their Digital Lifeline Project, which won Innovative Practice at the 2021 Suffolk Care Awards.
Leading Lives put much of their success down to their business model of employee ownership and not for profit. The board of directors is made up entirely of employee elected directors, voted for by their colleagues. Leading Lives invests heavily in the wellbeing of employees and involves them in the running of the business, employees feel valued and that their ideas and opinions matter.
All profits go back into the organisation and to the local community. This year Leading Lives gave away £25k to local charities and third sector organisations in Suffolk.  Strong on values and always putting the person at the heart of what they do, Leading Lives is well respected nationally and locally within the care sector winning numerous awards including Health & Social Care Enterprise of the year 2015 at the SEUK national awards (and finalists in 2021), winners at the Suffolk Care awards in 2021 and named in the top 50 Employee-Owned businesses in the UK.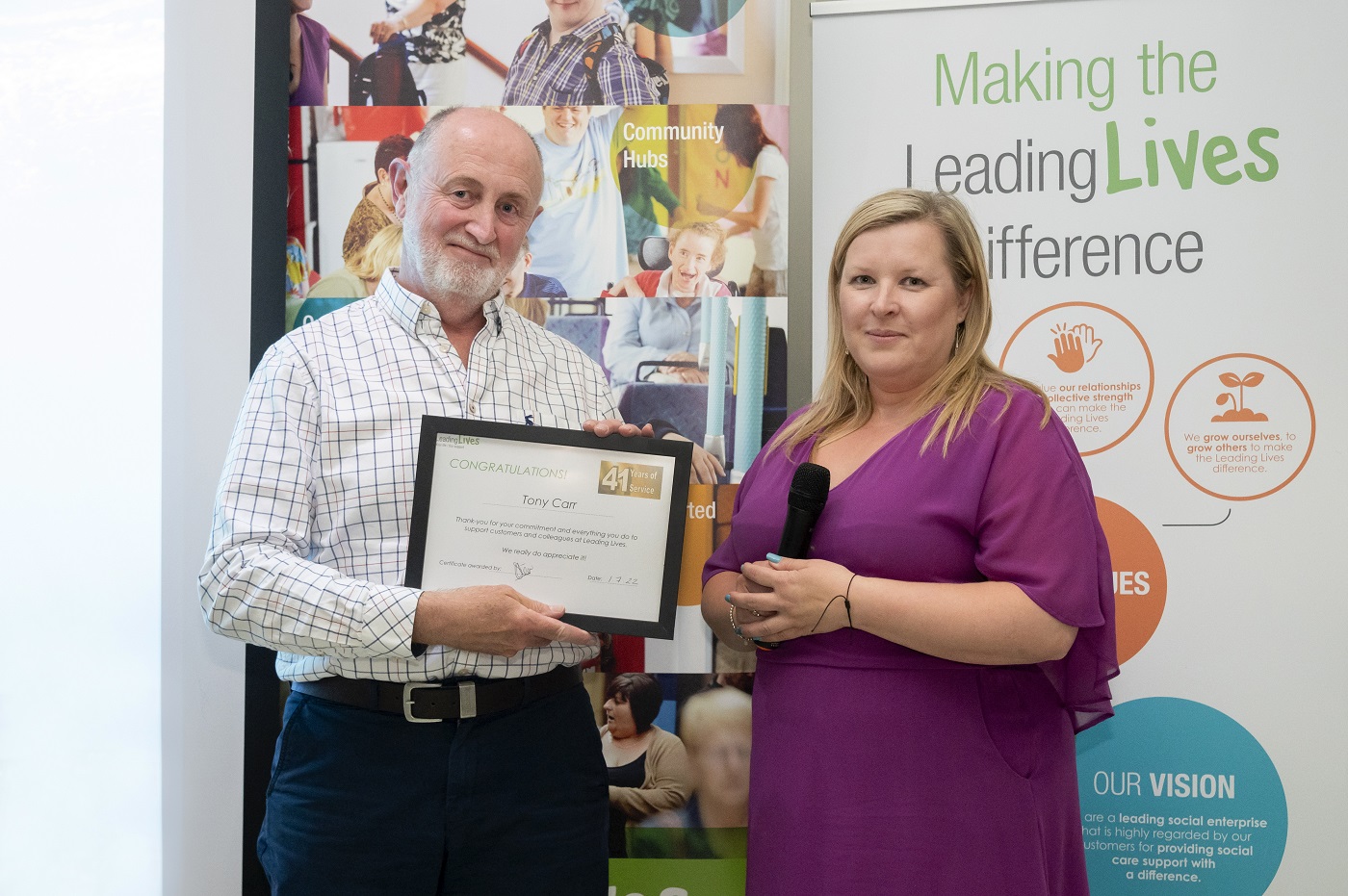 Tony Carr and Lucy Humphrey
Tony says "I have thoroughly enjoyed working in these services over the years with so many fantastic people. I feel fortunate to have had the opportunity to help create Leading Lives and am extremely proud of where it is today and how well positioned it is for achieving even more in the future." – Tony Carr.
Lucy Humphrey formerly Director of Operations at Leading Lives and non-executive director at Care Development East has been appointed as new Managing Director to succeed Tony.  Lucy said "This is an exciting time for Leading Lives and despite the challenges in social care we have a wonderfully loyal and committed workforce. I am positive we will work together to make the leading lives difference over the next ten years." – Lucy Humphrey.