Member updates
New Allia film shows how modular homes can help address homelessness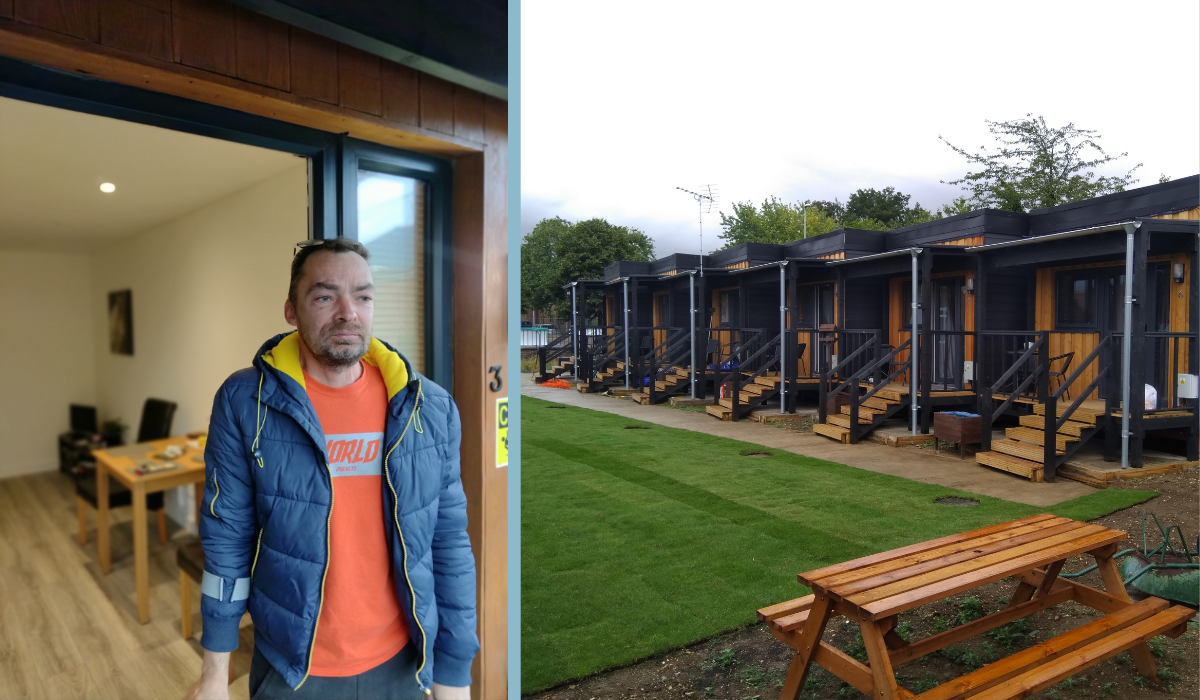 Allia, the impact focused social enterprise, has released a short film to share has released a short film to share how supported modular housing communities help people who have been previously homeless or are sleeping rough to rebuild their lives. It features Eamonn Kelly, a resident of one of Allia's modular home communities in Cambridge talking about how: "Having my own front door, my own shower, my own wardrobe and TV… at one time I couldn't think of it as a reality because I was on the streets. It's given me a chance to go back to who I am".
The film, which is available on YouTube and on Allia's Future Homes webpage, highlights the first two modular housing projects that Allia created in Cambridgeshire. Modular homes are custom built units that are specifically designed to be used on smaller or fixed life sites, keeping them affordable for both the residents and the homeless charities that that manage them. As a result of working on these housing communities, Allia Future Homes now has a specialist team with hands-on experience of siting and project managing modular homes – and can provide expert advice and resources to homeless organisations, faith groups with land, local authorities and partnerships who would like to develop their own.
The film also features Reverend Danny Driver, Vicar of Christ the Redeemer Church in Cambridge, which leased the land for Allia's first modular housing community in 2020. Working closely with Jimmy's Cambridge, a well-respected homelessness charity which provides intensive personalised support on-site for the residents, the units were built by New Meaning Foundation, a local charitable social enterprise which trains young, disadvantaged and formerly homeless people in modern methods of construction.
Partnerships such as these are key to making these projects successful – and the film shares six steps required to create this kind of community in any location across the country – along with business plans, securing sites and planning, fundraising and managing integrated building contracts, using meanwhile or permanent sites, and on modest footprints making them a feasible addition to existing church, council or community land.
Allia's film is being released the same week that the University of Cambridge Centre for Housing and Planning Research (CCHPR) host an online event to share their latest research assessing the impact of these modular home communities, on Thursday 16th March at 2pm, focusing on those in Cambridge. People interested in attending can register at www.eventbrite.com/e/modular-homes-discussion-event-tickets-541183663907.
Earlier research by CCHPR showed real benefits for the residents of such communities, stating: "The evidence suggests that providing modular homes in tandem with robust support services has the potential to improve outcomes for people experiencing homelessness" and that "Modular homes are a cost-effective and flexible stepping-stone that help rough sleepers in desperate situations transition into permanent homes and settled lives."
Allia Future Homes Manager Lewis Herbert said: "Our team are here to help potential modular communities every step of the way, including how to secure funding, like the national £200m Single Homelessness Accommodation Programme working with their local councils. We are sharing our experience and expertise of what works to give as many former rough sleepers access a quality home of their own. We want to help double the 20 similar communities being built across the country, essential extra provision if we are to fulfil the objective that UK Government has set of near zero rough sleeping by the end of 2024. Residents in new modular communities support each other, as well as re-establishing family connections, developing new skills and beginning the journey back to work."
Lewis was previously Leader of Cambridge City Council from 2014 to 2021, where he secured £70m for the building of over 500 new council homes and to fund three more modular housing communities for former rough sleepers and homeless people in Cambridge.