Member updates
How two social enterprises joined forces to create a complete ethical events package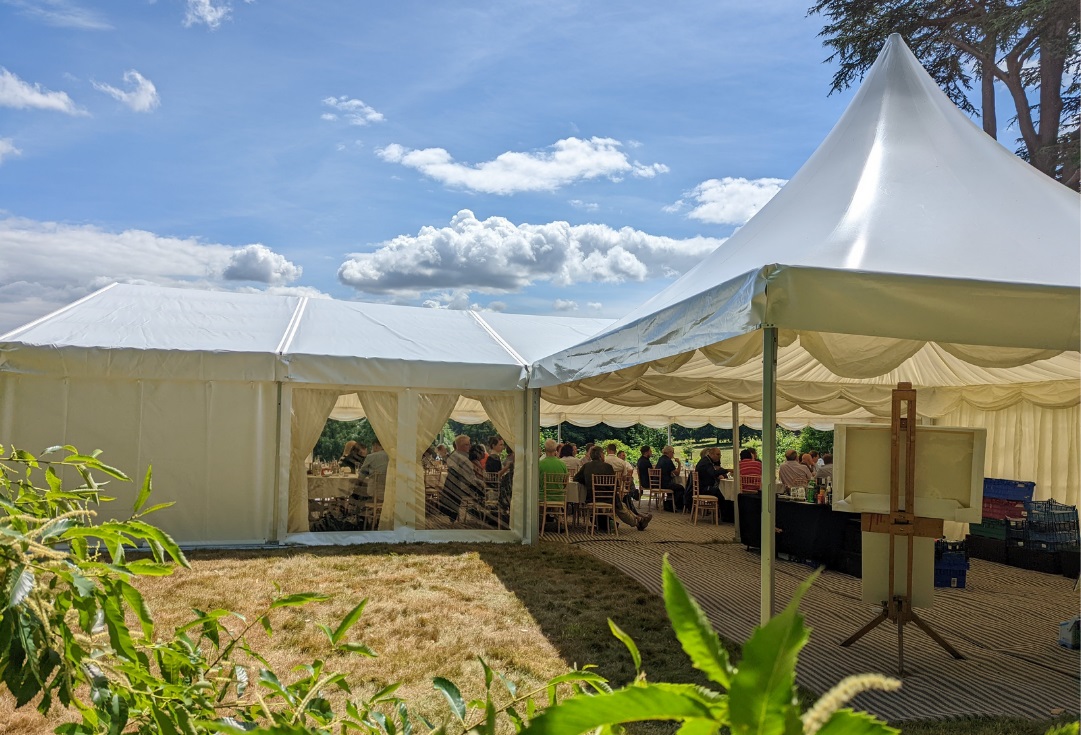 Two Midlands-based social enterprises have joined forces with a stunning countryside venue to offer a complete ethical events package which is good for the planet. The team at ChangeKitchen CIC craft innovative ethical menus, specialising in vegetarian, vegan and special diet options, while providing work opportunities for people who face social exclusion. That vision is shared by Jubilee Events, who employ those with multiple barriers to work as part of their marquee hire team and also offer event management services. When paired with the exclusive Meynell Langley estate, it results in bespoke, socially-responsible events for both corporate and private customers.
The partnership began when Derby University contacted founder and managing director of Jubilee Events, Matt Parfitt to celebrate DE-Carbonise – a three year collaboration between the University of Derby, Derby City and Derbyshire County Council. Matt then approached director and founder of ChangeKitchen, Dr Birgit Kehrer. Here's how the partnership developed in their own words:
"Jubilee Events was approached by a university who wanted to hold a special celebration event to mark the end of some environmental research. The brief was simple: you have a great venue and a fantastic marquee – can you find us an excellent, social, 100% vegan/vegetarian caterer? My first and only thought was ChangeKitchen. And after the first canapes at the tasting event the client was licking their lips (literally!)" – Matt Parfitt, Founder & Managing Director, Jubilee Events.
"As working as environmentally sustainably as possible has been part of our founding principles, we loved it when Matt from Jubilee Events got in touch to cater for an event for Derby University and City to celebrate the DE-Carbonise collaboration.We were even more delighted that the event took part at the beautiful Meynell Llangley Hall near Ashbourne, which is run in a climate friendly way, too. It feels there is so much synergy between the 3 organisations, we really hope to be delivering many more events together in this partnership." – Dr Birgit Kehrer, Director and Founder of ChangeKitchen.
Here's how the partnership with Meynell Langley estate works: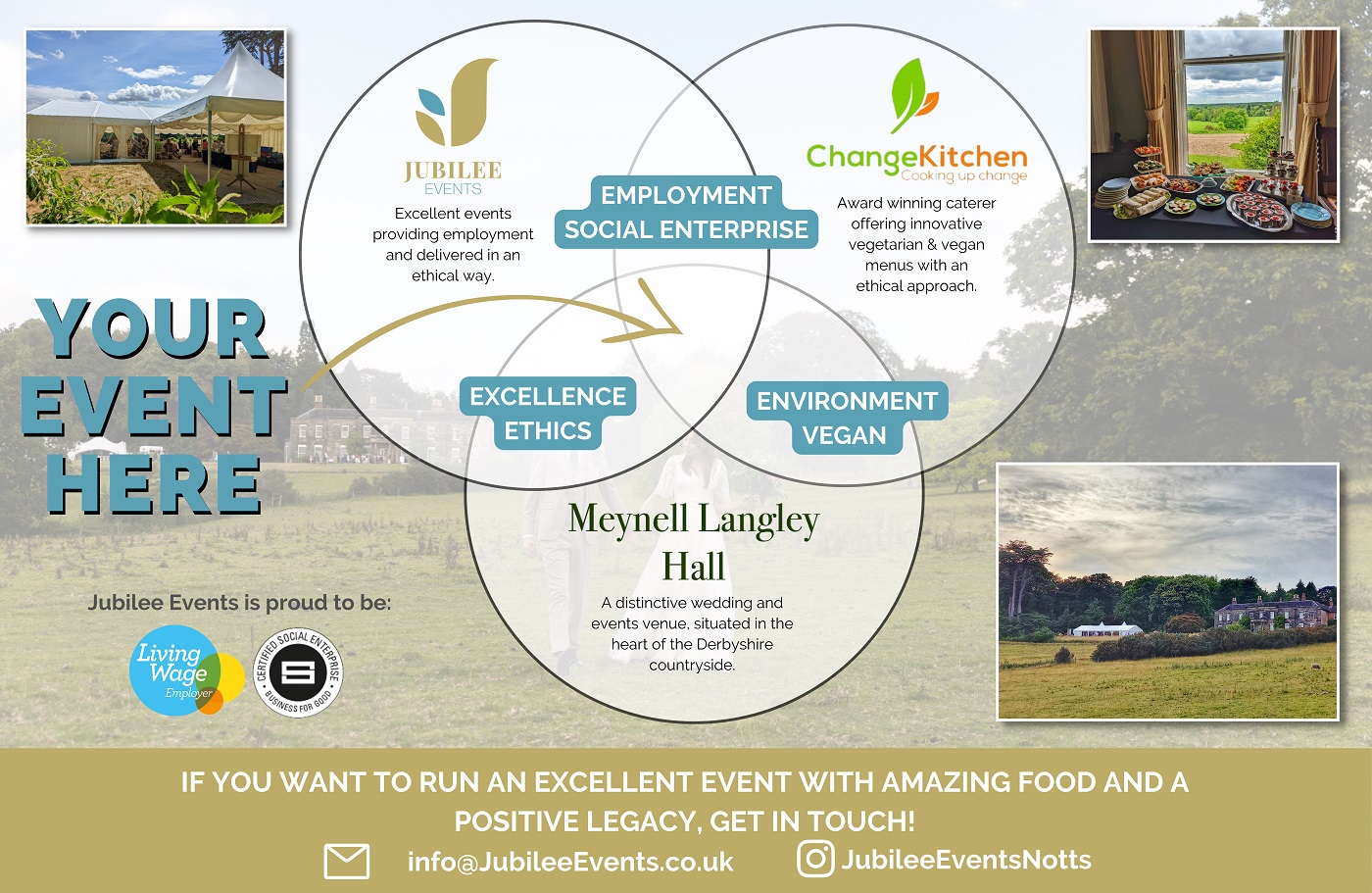 Both social enterprises are dedicated to breaking down barriers to the labour market. Jubilee Events is one of two social enterprises set up by Matt Parfitt which are both owned by parent charity – Grace Enterprises, the other being award winning cleaning social enterprise Radiant Cleaners. Both Jubilee Events and Radiant Cleaners have a mission to transform lives through supportive employment offering holistic support to the people they employ from mentoring and coaching to regular reviews.
In one season of trading, Jubilee Events have ten Living Wage jobs and run 20 events: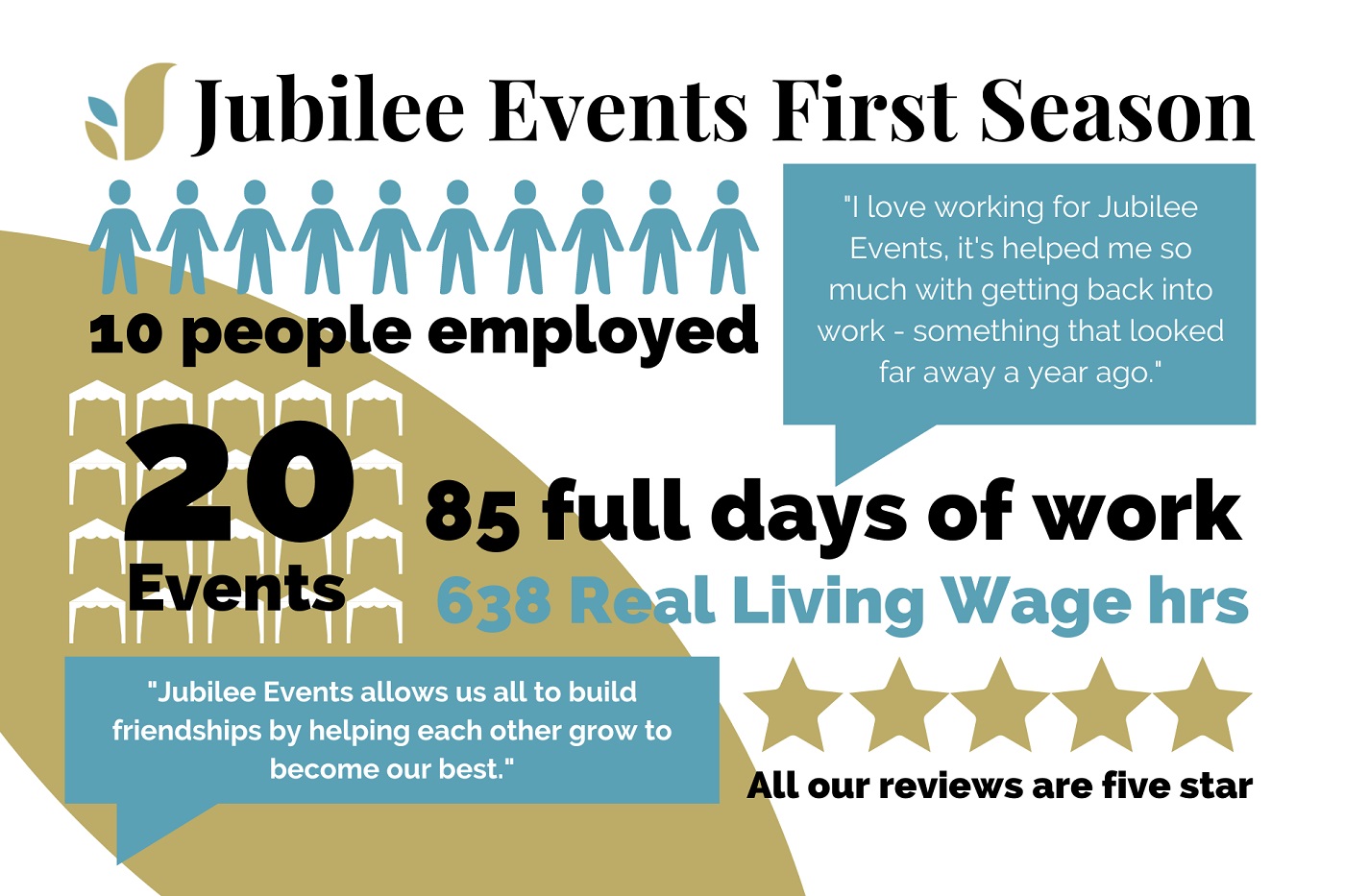 ChangeKitchen are an award winning green, climate friendly caterer which began trading in 2010. Its focus is also on employment, supporting people furthest from the labour market, but during the COVID pandemic they also branched out to supporting people in need with healthy meals cooked from surplus. So far they have cooked and delivered over 70,000 meals and are in the end phase of a kitchen expansion that will help them at least double their positive social and environmental impact within a year.
You can find out more about ChangeKitchen's work creating opportunities and tackling the ongoing crisis of food insecurity in this short video: