Adebowale Commission on Social Investment
The Commission on Social Investment was an independent group set up by Lord Victor Adebowale CBE to investigate the current state of the social investment market and how the market could better enable the growth of social enterprises
The Commissioners included representatives from the social enterprise sector, social investors and academia. The Commission's secretariat was provided by Social Enterprise UK, but the Commission's work was independent.
The Commissioners were:
Lord Victor Adebowale CBE, Chair
Dr. Susan Aktemel, Executive Director of Homes for Good Social Business Group
Chris Murray, Chair of Fusion21 and Director of Core Cities UK
Dr. Jess Daggers, independent researcher
Jamie Broderick, Director of the Impact Investing Institute
For the purposes of the Commission's work, social investment was defined as "any form of repayable finance (unsecured loan, mortgage, bond, repayable grant etc.) or equity that is given to or invested into social enterprises."
The definition of social enterprise was based on the Social Enterprise UK and Social Enterprise World Forum definition of social enterprise:
The entity must have a primary social or environmental mission that is clearly expressed in its governing documents;
It must reinvest the majority of its surplus back into the business or give it to another organisation to deliver its mission;
It must be independently run in the interests of delivering its mission;
The Commission was supported by Fusion 21, the national social enterprise and ran between February 2020 and January 2022.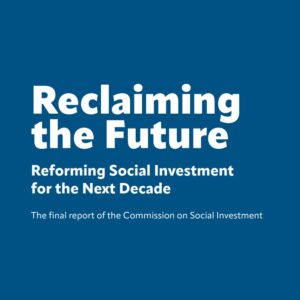 Key Findings
The Commission's final report has called for "comprehensive structural reform" to the social investment market.
It concludes that "the needs of social enterprises have been deprioritised over the past decade" and that "social investment cannot work – and has no purpose – without social enterprise." This deprioritisation has come at a time when social enterprises need greater access to finance, with the social enterprise sector growing rapidly.
The Commission has found that after £600m of public investment since 2010, the market is "fundamentally the same in 2019 as it was in 2011".
Social enterprises in the regions and nations of the United Kingdom have been underserved by social investment as well as disadvantaged groups, such as Black-led social enterprises. In particular, the Commission found that the "social investment continues to have a serious problem with inclusion and equity particularly, although not exclusively, in relation to race."
The Commission found that the structure of the social investment market was at the root of these problems, particularly the lack of patient, concessionary capital for on lending to social enterprises and the lack of flexibility in the structure of key institutions within the social investment market, such as Big Society Capital.
These structural weaknesses have led to a lack of diversity in the financial products available to social enterprises, particularly a lack of "enterprise-centric finance", which the Commission has defined as investment which is built around the needs of social enterprises with flexible repayment terms rather than conventional debt products.
The Opportunity
The Commission also highlights a major opportunity for economic and jobs growth.
Over 5,000 social enterprises and charities have been helped through social investment so far, if we can help another 5,000 social enterprises grow with social investment supporting them we could:

create 180,000 jobs either directly or indirectly, with 36,000 jobs in our most deprived communities,

add £3bn to the UK economy

raise £1.2bn in tax revenue

inject over £600m investment into the poorest parts of the UK.

Overall, the Commission believes that the UK could see £4 for every £1 invested into a reformed social investment market.
Recommenadations
HM Government should develop a new UK-wide social investment strategy, in consultation with the devolved administrations, to provide renewed clarity and purpose to the social investment market which has been underpinned by nearly £1bn in public investment.
A new £400m 'Frontiers Fund' should be given to a reformed Big Society Capital, which should have its financial sustainability target removed, to provide enterprise-centric finance to social enterprises.
A new "Social Enterprise Loan Guarantee" scheme to provide security to investors in long term patient capital for social enterprises backed with £200m of public money.
An additional £100m investment in Access – The Foundation for Social Investment, to ensure the ongoing provision of blended finance to social enterprises.
A new "Flexible Capital Taskforce" to work with charitable foundations to boost their investment in social enterprises and unlock £380m of new capital by 2030.
A new £50m "Black-led" social investment fund to tackle the current inequality of social investment in Black-led social enterprises.
Regular investment in place-led social enterprise infrastructure to support the growth and development of social enterprises that can access social investment. An initial investment of £44m should be made from dormant assets with further tranches in the future.